Learn about the creative process of
Altered Books  
with
Sylvia Torres and Carole Hatcher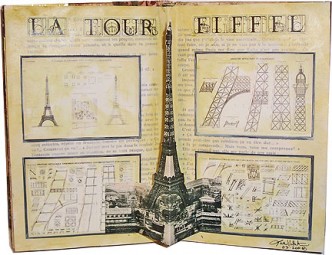 An

altered book

is a type of mixed media artwork that changes a book from its original form into a different form, altering its appearance and/or meaning.  The artist may add pockets and niches to hold tags, rocks, memorabilia, or other three-dimensional objects. Some artists change the shape of the book, or use multiple books in the creation of the finished piece of art. It may be as simple as adding a drawing or text to a page, or as complex as creating an intricate book sculpture. Altered books are shown and sold in art galleries and on the Internet.
January 19, 2016
11:30-1:30
lunch buffet followed by the program
Desert Falls Country Club
Palm Desert
About the artists:
Sylvia Torres (satorres@me.com) creates altered books, and will show examples for sale.
Carole Hatcher (carolejhatcher@gmail.com) creates altered books for use in her event planning business.
Reservations required.
Please RSVP by January 15 to Jill at jadlersportink@sbcglobal.net
or 209-872-5673