Prostitutes, Virgins and Mothers




Questioning Teachings About Biblical Women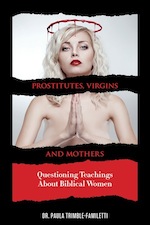 Christianity–indeed every contemporary religion–has suffered from the effect of being written, interpreted and conveyed, by and large, by men. Traditional interpretations of women in the Bible have been used to dishonor females, discredit their importance in the community and limit their participation in religious groups.
Backed by extensive research  Prostitutes, Virgins and Mothers challenges these interpretations and imaginatively retells these women's narratives in the way they were intended.
Come hear


discuss her book and share her insights on this intriquing topic
December 16, 2014
11:30-1:30
buffet lunch followed by the program
at
Desert Falls Country Club
Palm Desert
$26 members $28 guests
For reservations RSVP Donna by Friday, December 12 at donnaturrentine@reagan.com
Dr. Trimble-Familetti is a passionate advocate for women's rights, inclusive language and biblical literacy.  She holds a B.A. in Religion from Chapman University, an M.A. in Religion from Liberty University and a Doctorate of Ministry in International Feminist Theology from San Francisco Theological Seminary.  She has taught Women in Religion and Women's History classes at Chapman University.