The Vietnam War . . . a turbulent time in history
We all have memories of that period.
But what was it like as a Vietnamese growing up in that war torn country?
Come learn this as well as hear a love story set in that time.
C.L. "Jim" Hoang,
who was born and raised in South Vietnam during the war will share his experiences and his book
Once Upon a Mulberry Field
From the jungles of Vietnam through the minefields of the heart, Once upon a Mulberry Field follows one man's journey to self-discovery, fraught with disillusionment and despair but ultimately redeemed by the power of love.
at
Desert Falls Country Club
November 18, 2014
11:30-1:30
buffet lunch followed by the program
$26 members      $28 guests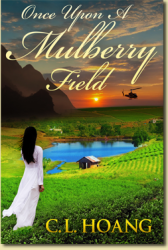 Mr. Hoang's book has received numerous awards and positive reviews.
• Honorable Mention, Writer's Digest 22nd Annual Self-Published Book                      Awards(2014)
•  Gold Medal Winner (Historical Literature Fiction), 2014 Global Ebook Awards
• Grand Prize Winner (Fiction), 2014 LuckyCinda Book Contest
• Finalist (Historical Fiction), 2014 National Indie Excellence Book Awards
• 5-Star Ratings from Amazon Hall-of-Fame Top Reviewers
. . . . a poignant, heartrending story of American and South Vietnamese friendship, respect and love, at the height of the Vietnam War. Through a unique insider's view, this intriguing novel gives the reader a close-up look at personal aspects of the war. C.L. Hoang has masterfully captured that turbulent chapter in the US and South Vietnam history.
Mr. Hoang came to the United States during the 1970's He is a graduate of Berkeley and an electronic engineer who holds eleven patents. You may read his blogs at mulberryfieldsforever.com
Make reservations for the luncheon by November 13 to  donnaturrentine@reagan.com